1 Day Tour To Mykonos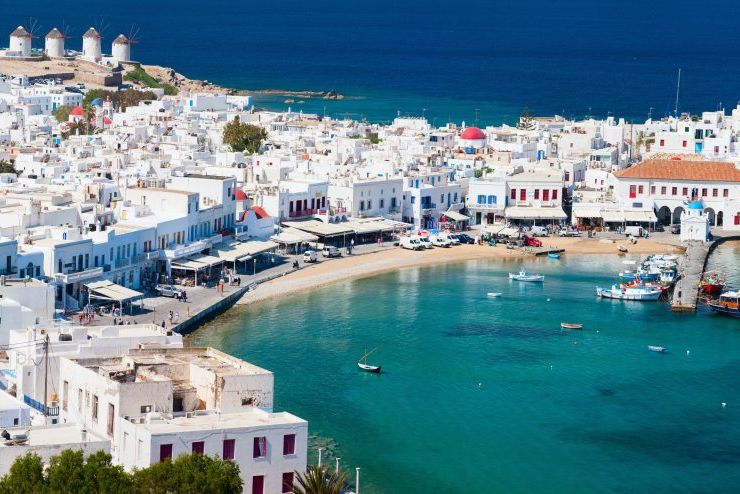 TOUR DESCRIPTION
Visit Mykonos the world-renowned, most fascinating island of myths for a day
Transfer to/from Rafina Port
Ferry tickets both ways
Transfer from port of Mykonos to centre and back
Stunning views
Multilingual crew
Explore one of the most pristine beautiful cities in Greece
See 'Little Venice'
Walk the narrow streets of Mykonos town
Swim on the most beautiful beaches in the Aegean
MORE INFORMATION
What about a daily tour from Athens to fascinating Mykonos???
Leaving early in the morning (approx 05.20) from the center of Athens by bus for the port of Rafina where the high speed ferries of Golden Star are waiting for us to sail away.
We will arrive in Mykonos at 09:50 after spending 2 hours and a half on the ferry, enjoying a short cruise in the Aegean Sea. Staying on the island for 8 ½ hours is more than enough time to get to know the most popular places of Mykonos.
An optional bus tour is available to visit the most famous beach of Mykonos, Super Paradise and the city center as well!
Enjoy your cocktails for 3 ½ hours next to the seaside of Super Paradise and let the breeze of Aegean Sea to wake up your senses!
Next stop is the famous alleys of Matogiannia in the city center. For 3 ½ hours you can walk in the traditional whitewashed streets of Mykonos that look like a small labyrinth to explore and who knows you might meet the celebrity of the island "Petros the pelican"!
| Optional Bus Tour | Super Paradise Beach for 3 ½ hours with a reserved sun bed and a soft drink or coffee, Mykonos City Center for 3 ½ hours | + 35 € |
| --- | --- | --- |
An optional boat tour is available for the holy island of Delos, one of the most important archaeological places in Greece! Its definitely worth your visit!!The tour starts at the old port of Mykonos at 11:30 am and ends up either at 13:30 or at 15:30 for those that would like to stay longer on the island. In both cases transfer with a sea bus from the new port to the old port of Mykonos for the boat tour is included.
| Optional Boat Tour | Delos Island for 2 or 4 hours | + 24 € |
| --- | --- | --- |